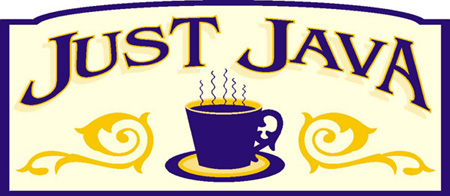 Gourmet Coffee Gift Box
We are offering this customized holiday gift box for your friends and loved ones both near and far.
Gift box contains:
2 - 12 oz. Foil Bags of Gourmet Blend Coffee Beans
(Your choice of Regular Coffee or Swiss Water Method Decaf Coffee)
1/4 lb. Bag of Gourmet Chocolate Covered Coffee Beans
2 - Torani Flavorings 75ml:
Almond Roca®
Hazelnut
Irish Cream
Vanilla
1/4 lb. Bag of Torani Candied Pecans
Torani Recipes
Personalized (Handwritten) Greeting
This auction requires pre-pay.
The beans are roasted to order and will be shipped to you in 7-10 days. We will ship UPS to anywhere in the continental United States. To maintain freshness, we suggest you order whole beans. However, we can grind the coffee beans for you upon request.
This Gourmet Coffee Gift Box is available for $29.95 (price includes shipping and handling). Christmas deliveries must be ordered before December 17, 2002.

Email Questions to justjavainc@yahoo.com